Considering an '87 VN750...
---
Hi there, first time poster....have a line on an 87 that a guy is selling for $500, and it looks interesting. Said it was his daily rider until it just stopped shifting into gear, says the shifter feels "loose"....

Read up here on similar problems and seems like something that's readily fixable. I tore down, powder coated 80% of the frame and parts, and rebuilt my 97 Honda ACE 1100 last winter so I can't imagine getting too intimidated spliting the motor to replace a shift fork or anything else in there....plus, it'd be great to have a solid start to go nuts chopping it!

So, my question to all here is: what should I look for, or more importantly, look OUT for?

thanks all...
Members who have donated towards server costs
Join Date: Mar 2006
Location: Kyle, Texas
Posts: 4,054
Hey welcome to the group! There are plenty of experts on the shifter and clutch area of the bike so sit tight, they'll be here. Other things to look for on the bike would be how the electrical charging system is doing. You can get a good idea if the bike will start by putting a meter on the battery and see what the voltage looks like when idling, then revving up to about 4K. Should be around 12-12.5 volts idling, and jump up to 13.5-14 volts when you rev it up.
Of course the obvious stuff like tires and brakes, but these can easily be replaced. Lance has been giving out shifter changer info like candy lately so maybe he will chime in on what you need to do. Good luck with it all.
---
Fergy
Kyle, TX VN750.com member #707 VROC#19556
2002 VN1500 Classic
Spline Lube Procedure, with photos,
R/R Relocation
and
Coil Mod
Rusty Tank Cleaning!
Electrical Fault Finding Flowchart
SEAFOAM JUNKIE!
Members who have donated towards server costs
Join Date: May 2006
Location: Tampa, Florida
Posts: 1,766
If you are that mechanical, definitely go for it.

Did we mention charging system?

Jon
---
93VN750, under re-construction
vn750.com Member # 828

Rick's Stator and R/R
MF AGM Battery
Coastered
Degoated
Shaved & Jetted
Iridium's
MAC Tapered Staggered Pipes
Battery/Temp/Clock Gauge
Stainless Steel Brake Lines
Dunlop D-404's
23,XXX miles and holding pending gasket change (underway!!!)
Cheers, guys....if it's something in the tranny, I'm on it like a fat kid on smarties, but if its this spline issue I've read about, that makes me less entusiastic, as I saw the prices of a new shaft online....EEP!
Simple Solutions
Join Date: Jun 2008
Location: SEQUIM, WA
Posts: 965
hey brother it may not be in the cases at all if is stuck in nutral chances are a spring popped loose in the shift pawl behind the transmission cover.... the other issues that it could be broken or bent rod but this would result in a real sloppy or stiff shift pedal.... the rod is barried between the cases and would require a split ... my shifter broke which inspired last june there are a few great threads ie the "journey" series by jthill for complete pic and engine rebuild pics..... .im aimin or the spring cause out of a bunch of cases this tends to be it..... another thing to consider on these olderbikes esp if they sat is rotten rubber (o-rings dampeners ect....) and if u do tear into the motor these should all be replaced.... get the scoot we'll walk u through anything u may encounter....
---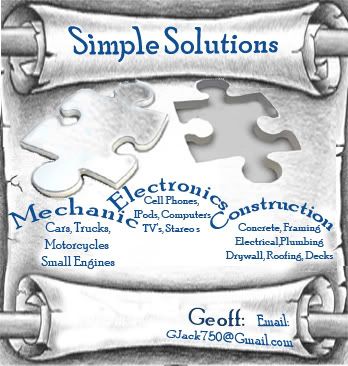 Stator #3
MF AGM
DeGoated
Ears Shaved
R/R relocated
Rebuilt
She's worth her weight in GOLD
If u dont have it already Here is the
Service Manual
How To
Test the Stator
Senior Member
Join Date: Jul 2007
Location: Castle Rock, Wa
Posts: 1,750
Buy it. Worse case would be you part it out and make more money.

DT
---
95 VN750 (eBay)31k+
GL1100 front fender
OEM engine guard
OEM high back rest
'V-Twin' HWY pegs
Black 750 Spectre handlebars
SunPro Volt Meter (Amazon)
Maier bug shield (JCW)
Bar Ends anti-vibe (JCW)
Emgo air filters
Tank bag-Eclipse
Tail bag-FroZone Cooler
Back Rest-Igloo 6 pak cooler
WalMart Saddle Bags
R/R Relocate
Dry Splines Lubed
AGM DieHard-Sears
Gutted Goat
Sporster XL Mufflers
LED's-stop,tail,turn,marker
Pickup coil mod to .45mm
Silverstar headlight
Rotella T6
Members who have donated towards server costs
Join Date: Dec 2008
Location: Monroe, LA
Posts: 4,715
Quote:
Cheers, guys....if it's something in the tranny, I'm on it like a fat kid on smarties, but if its this spline issue I've read about, that makes me less entusiastic, as I saw the prices of a new shaft online....EEP!
You'll see used ones in great shape pretty often on ebay. Think I got mine for $25 + shipping. The lube is easy to do with the procedure in fergy's signature. Mine were dry from the factory, but still in very good shape. Just lubed them up and good to go for 10,000 miles or next rear tire change, whichever comes first!
Welcome to the forum. Where you at? I just bought an '87 that put a balancer through the front of the case. Had the PO been checking for disintegrating rubber bits in the oil screen, probably could have prevented it, but would require an engine pull to replace.
---
I'm keepin' all the left over parts. I'm gonna use 'em to build another bike!
_____________________________________________
"Black Beauty"
1989 VN750 acquired December, 2008, 6,711 miles
Currently 23,298 miles
Old Blue
2001 Honda CMX250 Rebel acquired July, 2008
1987 VN750 project bike, acquired August, 2009, 33,000 miles and balancer sticking out of the case, currently awaiting attention and parts
---
Last edited by flitecontrol; 08-26-2009 at

08:22 PM

.
Member
Join Date: Aug 2009
Location: Dalton, Georgia
Posts: 71
Age is nothing. It has to do with miles and treatment during that time. I have an '87 that runs like a champ! I have only had to give it a little TLC and some cosmetic updates. I have less than $1500 in it and that includes everything that I have done to it minus gas and insurance!

Good luck man! This is DEFINITELY a good place to use as a resource. Nice folks, too. Get a manual. I can shoot you a copy of mine if you give me your email. There is a link to it that I downloaded mine from. Can't remember where, tho.
Linkmeister Supreme
Join Date: Aug 2008
Location: Lethbridge, Alberta, Canada
Posts: 7,960
---
Gordon
1991 VN 750 -"
Cosmic Lady
" or "
Bad Girl
"?
Purchased May 16, 2008
Approx.19,300km (12,000 miles)
H-D windshield
Relocated R/R
MF-AGM battery
Fiamm Freeway Blaster horns
F&S luggage rack and engine guard
Kury Offset Hiway pegs
July 13, 2016, Riding on the DARKSIDE now, Classic Radial 165/80-15
TOP TEN THINGS A NEW RIDER/OWNER SHOULD DO.
Click on link.
https://www.vn750.com/forum/showthread.php?t=9127