At Least I Can Spell!
Join Date: Jan 2009
Location: Monroe, NC
Posts: 615
After the Rain...
---
What do you guys do after you've been lucky enough to ride in the rain?

I was headed home from work Friday and a freak shower came upon me, soaking me nicely. I didn't panic, taking it slower and more deliberate, but I know I was grumbling about it. After 10 minutes the rain stopped and there I was cruising along looking like a wet dog in a tub, my shoes squishing on the pavement at the lights. I wished my visor had a teeny little wiper on it.

No problems at all and I got into the garage safely. Wondered if there was something I should do with the bike after a rainy ride.
---
Michael
2002 Nomad 1500
VROC #29972
----------------------
Member
Join Date: Mar 2009
Location: E Tennessee
Posts: 30
I got caught out the other day I just clean and dry the bike off then put a thin coat of spray wax on all the shiny stuff.
Ron
Old Truck Junkie
Join Date: Jul 2007
Location: Roby Texas
Posts: 4,133
I got caught in a simular rain on tueday. I had to use the white line to follow the road.
I just parked in the car port. Went inside the house and changed my pants a nd socks the rest of me was dry.
Nothing special on the bike just parked it for next ride.
---
02 honda sabre 1100
Join Date: May 2009
Posts: 29
I usually let my bike dry on its own then wipe it down in the morning. When the weekend comes around, wash it, wax it, polish the chrome. Nothing too special. I did a lot of riding in the rain when I stationed at Fort Lewis, WA. I practically lived in my rain gear. Just take it easy when you have to ride in the rain and make sure you have your gear handy.
Simple Solutions
Join Date: Jun 2008
Location: SEQUIM, WA
Posts: 965
Oil comes to the surface and it gets slick esp near stoplights and stop signs ... no aggressive acceleration or aggressive breaking....lines also tend to be slick... I'm a seattle native and riding in the rain well its a common occurrence when i get home i take a hot shower and set my gear out to dry ... when the rain stops for more then a day i may wash the bike ...
---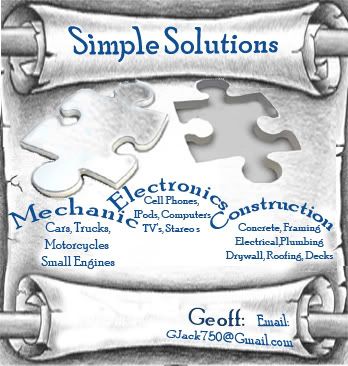 Stator #3
MF AGM
DeGoated
Ears Shaved
R/R relocated
Rebuilt
She's worth her weight in GOLD
If u dont have it already Here is the
Service Manual
How To
Test the Stator
Search Goddess
Join Date: Jun 2004
Location: Conway, AR
Posts: 2,002
---
Dianna
Conway, AR
Patriot Guard Rider
2000 VN750 Sere (Serendipity)
1990 GL1500 (Ole Blue)
1986 VN750 EVie (project bike, heavy custom)
VROC # 11628 / 25000-H
ARVROC # 12 Coordinator and Crowd Control
OKVROC # 18 (H)
TNVROC # 45 (H)
Senior Member
Join Date: Jul 2008
Location: Miami, FL
Posts: 409
In Miami I get caught in the rain often. Just pretend you are riding in slow motion. No sharp changes in momentum - left, right, forward or backward (stopping).

I usually let the bike dry on her own, then wipe her down with an "armor all" cloth. I'm not sure what the exact brand it, but it's one of those little tissue packs that seal up again. One of those will generally clean the whole bike.

Consider waxing your windshield. Mine's kind of small (I look over it) but when I'm riding in the rain, I notice a big difference in the waxed/non-waxed shield. Make sure you get wax and not "cleaner and wax." I think there's a thread on it here.
---
Scheherazade
'86 VN750
MF Battery, Iridium Plugs, RR relocated, Voltmeter, 170/80/15 Kenda Kruz rear tire, DIY Samsonite hard bags, DIY shaved seat with Beaded seat pad ('cause that's how I roll) and the dreaded STATOR CHANGE.

Shining Black Bess '86 VN750, retired for parts after a fried stator and being knocked (kee-runch) in her parking spot.
i just applied...
waiting for my email
Senior Member
Join Date: Jul 2007
Location: Castle Rock, Wa
Posts: 1,750
Quote:
I did a lot of riding in the rain when I stationed at Fort Lewis, WA. I practically lived in my rain gear.
40 years ago, Ft. Lewis was my dirt bike playground! The wetter, the better; bogs, hill climbs, dirt tracking it down the jeep trails on a HD. Great pawn shops, titty bars, brothels, and the best cops money could buy ;-) Went to bed listening to canon fire, 50 cals and grenades.
DT
---
95 VN750 (eBay)31k+
GL1100 front fender
OEM engine guard
OEM high back rest
'V-Twin' HWY pegs
Black 750 Spectre handlebars
SunPro Volt Meter (Amazon)
Maier bug shield (JCW)
Bar Ends anti-vibe (JCW)
Emgo air filters
Tank bag-Eclipse
Tail bag-FroZone Cooler
Back Rest-Igloo 6 pak cooler
WalMart Saddle Bags
R/R Relocate
Dry Splines Lubed
AGM DieHard-Sears
Gutted Goat
Sporster XL Mufflers
LED's-stop,tail,turn,marker
Pickup coil mod to .45mm
Silverstar headlight
Rotella T6