How can i increase my MPG?
---
Hello,

I'm currently getting 43 MPG at my last few fill ups. My geo metro gets 53 MPG. I thought these bikes were rated around 50 MPG. Does anyone have any suggestions on how I can get some better MPG? tires are inflated properly and I am an avid econo driver so I am pretty smooth with the bike, not so stop and go. Thanks in advance!

Jim
Old Twistie Sticks Rider
Join Date: Aug 2007
Location: Country Created by Geniuses, But Run by Idiots...!!!
Posts: 5,072
That does seem low for the way you say you are riding, I've had 3 vn750s and neither has been that bad, you should be at least equal to the Metro (but much more fun)...
I don't know what to tell you but others can & will help I'm sure...
I have never had a problem getting 150 mi on a tank before reserve, usually avg. 53-55 mpg. and even better up to 60 mpg. when rode for good gas milage (which I seldom do)...
---
Southern Central Tennessee....
...
Now on the Dark Side...
...
Girl's Bike 09 Sporty xl 1200 Custom...33k + & clickin...
...
Sportster Owner/Rider since age 72...lol... Rider since Simplex...???
09-xl1200 "C" Vivid Black, Cast wheels w/19" Frt., SE-Stage 1+, X14iEDs...
MicroTach +, Higher wider H-bars, GPS Mt., Mustach bar Hwy. pegs...
Viking Shock cutout Saddlebags, Rear Mt. Signal Lt. Kit, Fork Brace...
RoadKing Air Shocks, Mustang Seat, Progressive Fork Springs...
Simple Solutions
Join Date: Jun 2008
Location: SEQUIM, WA
Posts: 965
thats about what mine gets however ear shaved... so the jets push more fuel... try new iridium plugs "regular unleaded (87)" make sure splines and axels are well lubricated. tire pressure and a little air in the rear shocks... and you should get optimal performance... throw a lil seafoam in the tank and sync the carbs (though i guess they are very close ) and she should be in tip top shape.... i also find that if i get off and push a few blocks every once in a while it helps to ....
---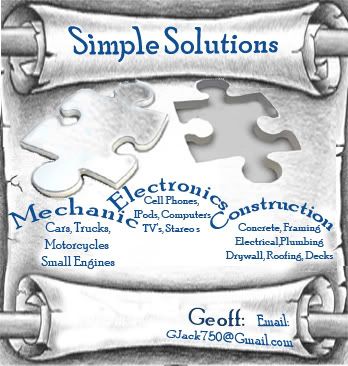 Stator #3
MF AGM
DeGoated
Ears Shaved
R/R relocated
Rebuilt
She's worth her weight in GOLD
If u dont have it already Here is the
Service Manual
How To
Test the Stator
Senior Member
Join Date: Apr 2009
Location: OK, USA
Posts: 175
You say you drive gently and smoothly, but how fast?

These bikes are geared quite low, so the RPM's are wound up pretty well on the interstate, and the mileage suffers accordingly.

Back and forth to work at predominantly 45 and 55 MPH, my mileage is typically high-50's and I broke 60 once, but the few times I've hopped on the interstate for a whole tank of 70 MPH, mid-40's seems to be the way it goes.
Drive less, ride more...
Join Date: Nov 2005
Location: SW Ga
Posts: 1,114
As you might guess, gas mileage is affected by many different factors. 43 mpg is actually about right if most of your riding is on the interstate--between 70 & 75 mph.....

You don't tell us anything about your bike, how fast your are riding it, or even where you live (all of which can play a significant part in the answers to your question).

R U the original owner--or not? If not, how was the bike modified b4 you got it?

Is the bike's fuel/exhaust system bone stock--or has it been modified (and if so, how)? When was the last time the air filters were cleaned (or replaced)? Factory air filters--or something else? What is the bike's mileage? What is the mileage on the bike's spark plugs? When was the last time the spark plugs were cleaned, gapped (or replaced)? Do the carbs perhaps need to be cleaned, adjusted or synched? What air pressures are you running in the tires? How heavy are the loads on the bike? Are all vacuum lines in good shape and unblocked?

What do the spark plugs electrodes look like right now (pix of the spark plug electrodes--with each pix labelled as to which plug each is--would probably help a lot with the diagnosis on this)?

I'll agree with the earlier postings here...to get 50+ mpg, generally speaking, you need to keep the rpm's below 4,500 while steady hwy cruising. This of course assumes that the bike is (overall, at least) in good shape and that it currently needs no real maintenance, or is not carrying heavy loads--and not at high(er) elevations....
---
'05 VN750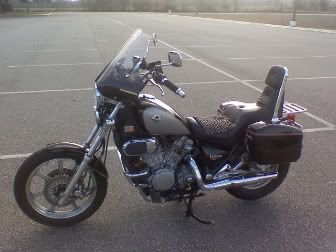 For other bike pix & mods, go to:
http://s1203.photobucket.com/albums/...k/VN750%20pix/
---
Last edited by theauhawk; 08-01-2009 at

07:18 PM

.
The bike is completely stock. the plugs are new. the carbs were rebuilt and cleaned this month. the air filters are new. i am the 2nd owner. it has 18,500 miles on it. I was on the highway going about 65-70 MPH. I would like to modify it perhaps a 6th gear. has anyone on here done a 6th gear modification? I will try going 55 on the next few tanks to see if that corrects the MPG. I live in South Central PA so there are plenty of hills around here to climb. Thank you all for your ideas.
Drive less, ride more...
Join Date: Nov 2005
Location: SW Ga
Posts: 1,114
I don't think you'll find anyone (else) on this forum that will encourage you to pursue a 6th gear for the tranny on this bike.
If you are pulling up some good hills on that bike at 70 mph, that will have an adverse effect on your mileage--especially if your elevation averages (above sea level) are noteworthy.
Assuming that your recent carb job was done, synched and put back in correctly, your ignition system is behaving as it should, the plugs are gapped to within spec, both "jugs" still have good compression, tires are decent and inflated properly, and the rest of your running gear is properly lubed and in good shape--you should indeed see some improvement if you keep your speed down a bit more...
Did you go with iridium-tipped spark plugs? They don't require the regular maintenance (and replacement) of regular plugs. They also help eliminate the "hot start" problem that can occur on these bikes.
Not to change the subject away from what you've asked about--but if you are the 2nd owner, and you have not already done so, I would encourage you to check the lubrication (or the possible lack thereof) on your driveshaft's splines (the rear splines, mainly). It could save you from a bad experience of being on foot--
unexpectedly
!!!.....
If you have questions about the splines and their lubrication, many threads exist on this forum--and a procedure for this is found in Fergy's signature. The instructions there are most excellent.....
---
'05 VN750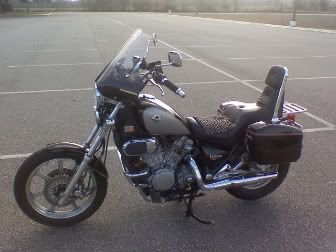 For other bike pix & mods, go to:
http://s1203.photobucket.com/albums/...k/VN750%20pix/
i will check the splines and look into the iridium plugs when they need replaced. Thank you for your help.
Senior Member
Join Date: Apr 2009
Location: OK, USA
Posts: 175
Retrofitting a six-speed would be quite a project. Even just changing the gearing in the transmission would be pretty major surgery. However, just after I found the site, I went through the whole gallery and found the following drawing:
https://www.vn750.com/photopost/showp...g&cat=&si=gear
No promises, don't know where that project stands...
EDIT: Actually, those are primary gear reduction gears. Should be a less-intimidating project, but would change the ratios of all the gears (Though I think the bike is geared low enough it could deal with it).
---
Last edited by IMBoring25; 08-01-2009 at

11:26 PM

.
HAWK
Join Date: Feb 2006
Location: Chicago land
Posts: 2,576
When I had my Plex III on that is about what I got, When I switched to the smaller summer shield it went up close to 50 and I ride hard.
Weight and drag play a big part.
---
Chad Falstad "Hawk"
Vroc #17649
2011 HD Ultra Classic "angel"
2001 Nomad 1500 Sold March 2012
2001 VN 750 "Sold June with 2008 with 21,000""Serinity"