Junior Member
Join Date: Jul 2009
Location: Manhattan, Ks
Posts: 15
Quote:
Now there's an interesting seat! And, plenty of cargo area!!
LOL Yeah It actually is really comfy, I can fit a full ruck sack on the rack for when I do longer rides.
---
'99 VN750
12998 miles - 2009
Completed:
Custom seat (steal tractor seat cut down to give more leg room), 10"X12" 1/8" steal plate Rack., 18" drivers back rest, custom Highway bar, coastering.
Future:
5 gal tank.
---
Last edited by dagmar; 08-01-2009 at

12:15 AM

.
Member
Join Date: Dec 2005
Location: AR
Posts: 50
Senior Member
Join Date: Jul 2009
Location: coshocton,oh
Posts: 166
02 with 7843mile
and 1 with the new drag pipes!!! i think it a big improvement
---
Last edited by ohio_redneck75; 08-02-2009 at

06:45 PM

.
Join Date: Jul 2009
Posts: 20
Quote:
Originally Posted by
Identitycrisis
View Post
to OP... I love that look, was that a custom job? or is that a seat made specifically for the vulcan, because I uhh "NEED" it... LOL
Quote:
Same to the OP - I want that seat it is sweet - where can I get one?
Thanks. The seat came off a vulcan 1600 meanstreak. It is very comfortable and give a sporty looks. What i did was reverese the side bracket and drill 3 extra holes. 2 are on the side frame and 1 on the back.
Where to get it? I saw couple of them on ebay.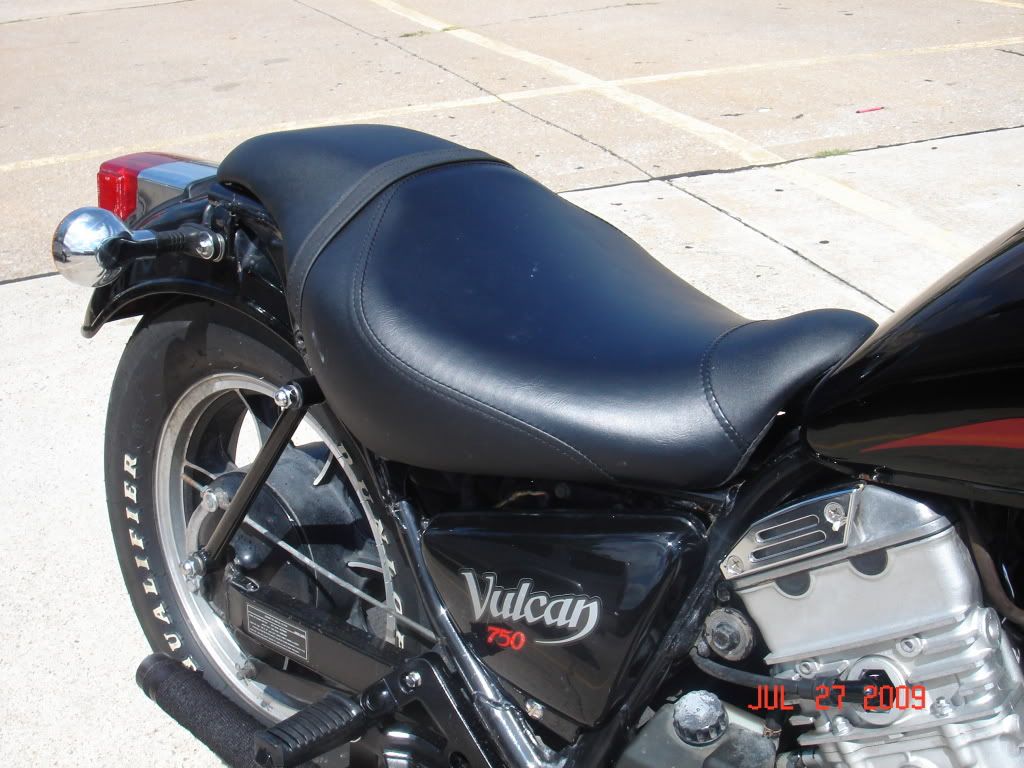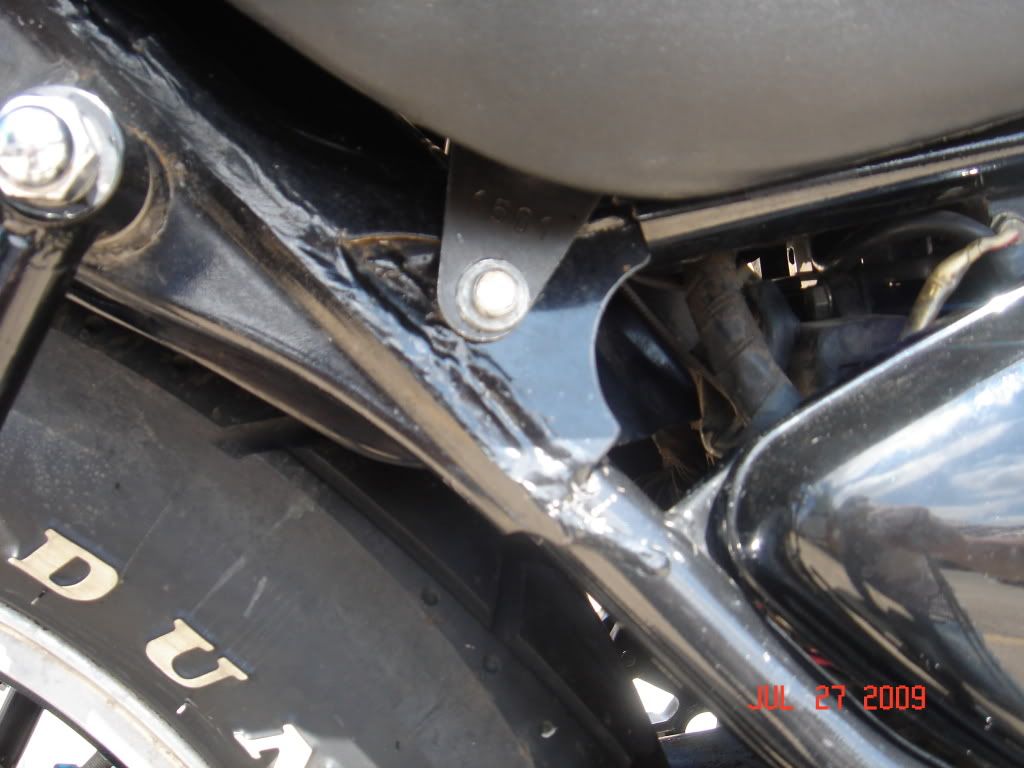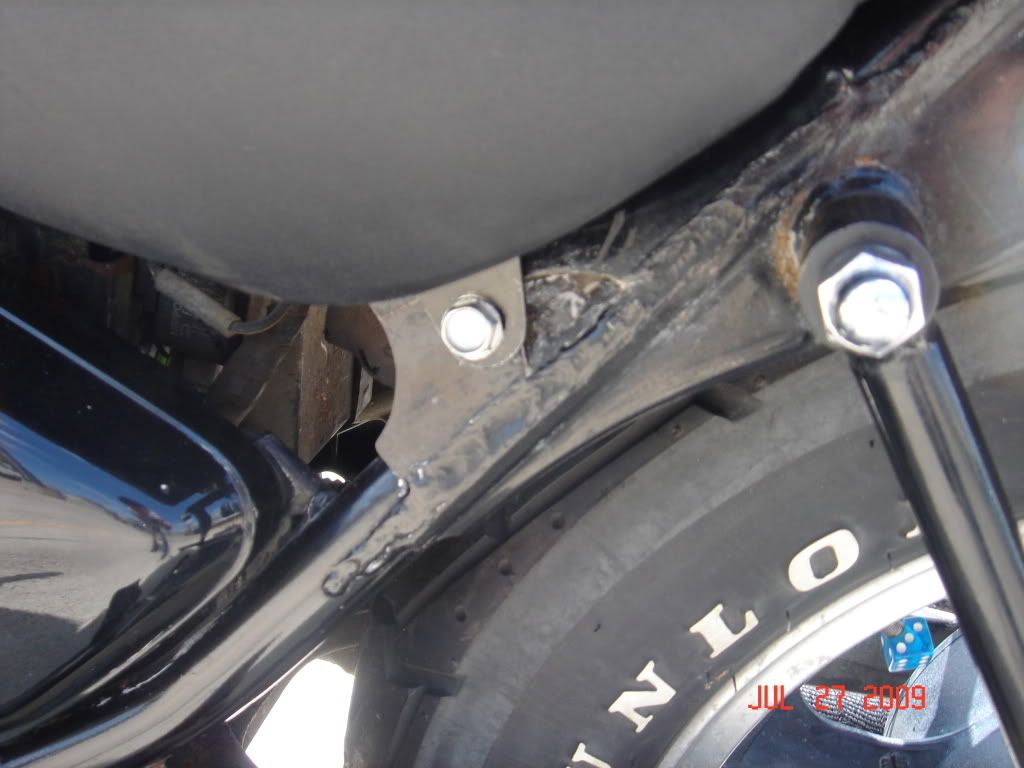 ---
Last edited by bikeronbudget; 08-01-2009 at

04:20 PM

.
that looks kool, here is my bike as of last august...a lot has changed on her since then...like the seat is now covered in leather, the sissy bar is gone, and some other mods i forget all i did back in march
---
Last edited by slimvulcanrider; 08-01-2009 at

06:52 PM

. Reason: added pic
Simple Solutions
Join Date: Jun 2008
Location: SEQUIM, WA
Posts: 965
lookin for pics i came across a bunch of old pics that made me cry .... befor the rebuild and in the snow... wouldnt let me post again ...
91 w/29k
---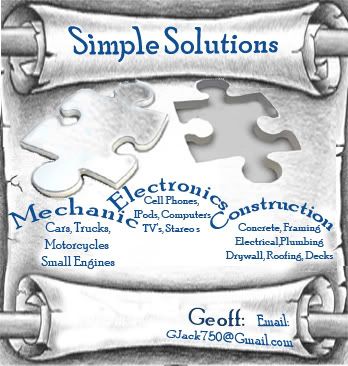 Stator #3
MF AGM
DeGoated
Ears Shaved
R/R relocated
Rebuilt
She's worth her weight in GOLD
If u dont have it already Here is the
Service Manual
How To
Test the Stator
Join Date: Jun 2009
Posts: 2
Hi all Vulcan fan, i am from Norway and i get my first bike. This is a picture of my ride to day, and i will customised the bike in this winter and a parts it`s ordered from cruisercustomizing.

And i realy like this bike. And thanks for a great site for VN750 owners.
The Professor
Join Date: Feb 2008
Location: BUFORD, GEORGIA
Posts: 3,147
Welcome to the family, you will have any and all the help you need from the folks here!
---

85 VN700 "Old Yella"
REBUILT ENGINE
CUSTOM PAINT
VANCE & HINES CRUZERS
EAR SHAVED AND RE-JETTED W/K&N'S
DUNLOP ELITE K591 FRONT & REAR
VOLTMETER
SYNTHETIC BRAKE FLUID
SYNTHETIC OIL & GEAR LUBE
PLEXISTAR 2 WINDSHIELD
SPLINES LUBED
ACCT'S GREASED W/TOC SPRINGS
COASTERD
LEATHER SADDLE BAGS
LEATHER TOOL AND ROLL BAG
PICKUP COILS GAPPED AT .018"
NGK CAP, WIRES, IRIDUMS
BARNETT FRICTION PLATES & SPRINGS
CUSTOM GRIPS, MIRRORS, LEVERS
ORIGINAL STATOR & R/R 14.5v
DEKA MF AGM ETX15L
Best Auto/Moto Insurance | Motorcycle Protection Today | FREE Trade-In Quote
Late to the party
Join Date: Apr 2008
Location: Rochester, MN
Posts: 321
Haven't taken any new pictures in a while. Still looks the same though.
---
'05 VN750 - "Cookie"
My Gallery
---
Last edited by jabarry; 08-03-2009 at

12:04 PM

.