Custom Grill Payments Needed
---
Hey all! So far thing are going great. The total people tally'd so far is 92 with 105 grills. That's awsome. The order has been placed for the grills & now we just need the rest of your payments to finish up.

Here is the list of who I show still owing. If your on the list & you've payed, no biggie. This is just a double check that we have everybody.

Once I have the payment your name will come off the list. I figured this would be the easiest way to narrow this down. Again, Thanks to all of you!

All have been acounted for by you or someone else! =)
---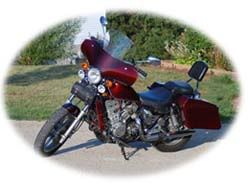 Orig. 8600 Miles 5/12/7 Currently 50,500Miles

Owners Manual
Repair Manual Download
Mosfet RR Test
Goof Proof Stator Test
VoIP Doc's Ear Shave & Re-jet Procedure
Hyperbuzzin's "How To Post Photo's.
Mosfet R&R Headlight Fix.
---
Last edited by kanuck69; 08-09-2009 at

10:02 PM

.
Members who have donated towards server costs
Join Date: Jul 2006
Location: Kennett Square, PA
Posts: 3,505
Come on, folks - let's not leave Jason in the lurch on this!
---
C
Search Goddess
Join Date: Jun 2004
Location: Conway, AR
Posts: 1,998
For those of you that did sign up and your check isn't in the mail or you haven't hit your paypal account yet...
If the check is in the mail, let Kanuck know. Paypal is instant notification

I have a few people that would love to get their hands on your grill!
I have already directed a few over to kanuck in hopes of picking up a "no-pay"

Also.. just my persoanl opinion but.. next time some custom piece rolls around, you might not be taken as seriously when you say you want one..
---
Dianna
Conway, AR
Patriot Guard Rider
2000 VN750 Sere (Serendipity)
1990 GL1500 (Ole Blue)
1986 VN750 EVie (project bike, heavy custom)
VROC # 11628 / 25000-H
ARVROC # 12 Coordinator and Crowd Control
OKVROC # 18 (H)
TNVROC # 45 (H)
Junior Member
Join Date: Jun 2009
Location: Nazareth, PA
Posts: 14
Payment Made
---
My paypal account was charged $37 back on 7-2-09 for payment to cliffhusn. Let me know if there is something else I need to do to get the records updated.
Louder IS better!
Join Date: Feb 2008
Posts: 289
pay pal is takin forever to clear the money that we transfered into it. i assure you i am not a "no pay"
---
2005 VN750
16,000 Miles
HAVE:
V-Force Windshield
V&H Cruzer Pipes
Luggage Rack
Lo-Jack
Intact Toolbox
Avon Venom Tires
Tour Master Cruiser II Slant Bags
K&N Air Filter
Custom Grill
NEED(want)
Engine Guard
16" Ape Hangers
Forward Controls
New Grips
New Mirrors
Driver Backrest
Passenger Backrest
1992 VN 750
Join Date: Jan 2009
Location: Colorado Springs, CO
Posts: 109
Just wondering if there is a list of folks who have paid? I can't wait to put mine on and want to make sure I am on the list!
---
1992 VN 750 / 18,100 miles
V and H Cruzers
Earshaved and sheared
110/90 and 170/80 Metzeler 880s
AGM Battery
TPE Stator
Clear Alternatives LED brakelight
Saddleman Explorer Seat
Kurakyn Levers
VN750.com Grill cover
SCP Coasters
Iridium plugs
MOSFET R/R
Members who have donated towards server costs
Join Date: Jun 2006
Location: Long Island, NY
Posts: 812
To those of you who have paid so far, thank you. Those of you who have not please do so asap.
Please make payments to KANUCK69 only. Do not send payment to anyone else as that only complicates things.
Dianna, there are some open accounts from the people at Yahoo who wanted grills and have not yet paid. Can you please contact some of those that you sent over. Thanks.
To all who took the interest and made this grill project possible, Many Thanks, the grills are coming soon.
---
2003 Wine/Gray VN750 bought in 2005 w/2000 Miles
LED Tail/Brakelight & License Plate Light;Chrome Inspection Sticker Plate ;Battery Charging Quick Plug;Kuryakyn LED Battery Voltmeter;Throttle Rocker Palm Rest;Optronics Driving Lamps;KnifeMaker Floor Boards;Halogen Headlamp Bulb;OEM Engine Guard;Iridium Spark Plugs;OEM Luggage rack;Stebel Air Horn;Handlebar Clock; Handlebar Thermometer; Sealed Battery; Marbled; Leather Grip Covers; Rectangular Mirrors

~VROC~ # 389
CWO3 Navy (Retired)
Join Date: Sep 2008
Location: Maryland
Posts: 722
ship762, I got your payment and forwarded it to Kanuck69 you are covered!
---
The Flag on my bike honors those who serve our Country and those who have served!
Linkmeister Supreme
Join Date: Aug 2008
Location: Lethbridge, Alberta, Canada
Posts: 7,960
Hey Kanuck, sorry for the confusion, but I just send another email to the address for payments, explaining my paypal payment through my daughters account a week ago, and mailing to a Montana address to save the extra $20 shipping. I hope everything is clear about my information now. If not, shoot me an email or PM, and I will reply likewise.
---
Gordon
1991 VN 750 -"
Cosmic Lady
" or "
Bad Girl
"?
Purchased May 16, 2008
Approx.19,300km (12,000 miles)
H-D windshield
Relocated R/R
MF-AGM battery
Fiamm Freeway Blaster horns
F&S luggage rack and engine guard
Kury Offset Hiway pegs
July 13, 2016, Riding on the DARKSIDE now, Classic Radial 165/80-15
TOP TEN THINGS A NEW RIDER/OWNER SHOULD DO.
Click on link.
https://www.vn750.com/forum/11-vn750-general-discussion/9127-top-ten-items-you-would-suggest-new-owner-do-his-new-ride.html