Need some help
---
I have a 97 vulcan that i need to change the oil in the front forks . I would like to know if this would be easy to do for someone like me who doesnt know to much about these bikes . I am also on a very low budget i have heard that u can use ATF instead of fork oil. Any help would be great because if u know me i need all the help i can get thanks to all for any help
Quote:
I have a 97 vulcan that i need to change the oil in the front forks . I would like to know if this would be easy to do for someone like me who doesnt know to much about these bikes . I am also on a very low budget i have heard that u can use ATF instead of fork oil. Any help would be great because if u know me i need all the help i can get thanks to all for any help
First, why do you think you need to change the oil in the forks?
Second, I would not use ATF but spend the 12 bucks for a bottle of real fork oil. Bel-ray 15w is the most reccomended.
As for doing the job, it really is not hard, but does require tools and at least a six pack of beer.
I would suggest getting a shop manual or an aftermarket one like a Clymers, these are invaluable to have if you need to do any kind of work on the bike and are not , uh, "talented" in that area.
There is a place online you can download a manual for free, am sure someone has the link.
KM
The bike has 64thousand plus mile on the speedo and dont know if they ever change it iam one from making sure that i keep up on all maintence
Drive less, ride more...
Join Date: Nov 2005
Location: SW Ga
Posts: 1,114
64,000 miles on a Vulcan 750? Some of us might be interested in learning what kind of shape this bike is in....
Is the engine holdiing up well (i.e., not using any/much oil)? How good does the rest of the bike appear to be, etc....?
BTW: earlier, in another "thread"....you mentioned being new to Pensacola, FL...and were looking for others to ride with.
I'm pretty familiar with that area, since I've gone thru there on occasion for business.
An oasis of info for riding opportunities in NW FL can be found at:
http://thecoyotesden.com/happening.html
You'll meet some people at some of these listed events who no doubt will later turn into your riding buddies. The website is updated constantly, so it is a good continuous source for ridiing events/opportunities in that area.
If you need professional help with your bike in the Pensacola area, I strongly recommend you first take it to D & D Cycles--and
NOT
Pensacola Motorsports. Yes, D & D is the local Triumph/Ducati/KTM dealer, but they actually do an excellent job working on other brand bikes, too. Ask for "Robert".....who is the (co)owner (with his wife) and he is also the shop manager. Even though your bike is a Kawi, Robert is very, very knowledgeable about the VN750, and they will take care of your "baby"...
Hope this helps....
---
'05 VN750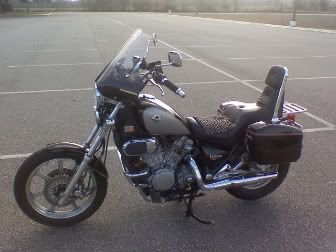 For other bike pix & mods, go to:
http://s1203.photobucket.com/albums/...k/VN750%20pix/
My baby is in great shape 1 spot of rest the runs very strong i love riding this bike i ride everyday . Not using any oil that i know of. thank u for all ur help. Ur the sceond person who who has recommed D D cycle
Members who have donated towards server costs
Join Date: Mar 2006
Location: Kyle, Texas
Posts: 4,054
65K is not an unreasonable amount of miles on a bike, if it has been maintained, and the miles aren't "rental" miles. I would expect to get twice that if ridden normally and kept in good maintenance. Sounds like you are one to keep it in good maintenance, so good for you, (and your bike!).
---
Fergy
Kyle, TX VN750.com member #707 VROC#19556
2002 VN1500 Classic
Spline Lube Procedure, with photos,
R/R Relocation
and
Coil Mod
Rusty Tank Cleaning!
Electrical Fault Finding Flowchart
SEAFOAM JUNKIE!
Senior Member
Join Date: Jul 2008
Location: Titusville, New Jersey
Posts: 6,431
Hey buddy, here's a link to step by step videos on youtube for changing fork oil. It gives a real good idea of how labor intensive it is. This should help you decide if you want to do it or if you'd rather have it done. Hope it helps:
http://www.youtube.com/results?searc...rch_type=&aq=f