Senior Member
Join Date: Jul 2008
Location: Titusville, New Jersey
Posts: 6,430
Going down on the highway
---
I was having a conversation with the Jeff, the resident Harley snob, over the weekend. Too bad I can't aviod this dude altogether, we have the same friends, one of which is my twin. Alas.

During the discussion, he tells me that no matter what if you go down, you're hitting your head on the ground, its inevitable. I then asked how intelligent it is that he NEVER wears a helmet. He tells a couple stories about how he's been down on the bike over the years and hit his head every single time, then shows me the scars. My first question: is it true that no matter what, if you go down, you're hitting your head?

He then tells me that fortunately he's never been down on the highway. He was very vehement when he said, "Yeah, if you go down on the highway, helmet or not, you're done." "Done?" I said, "what do you mean by 'done'?". He said that no matter what, if you go down on the highway you're not surviving. I take highways to work everyday so this was more than a little disconcerting. Second question: is this true? Are highways a 'one and done' kinda deal?
Members who have donated towards server costs
Join Date: Dec 2008
Location: Monroe, LA
Posts: 4,706
Wait, let me be sure I understand. You're listening to a guy you don't like, who never wears a helmet, has been down many times, and each time he's hit his head, has the scars to prove it, and still doesn't wear a helmet, right? I would think his advice might certainly apply to HIM, but it sure doesn't apply to anyone who might think it was a good idea to wear some head protection (and I'm not talking about a bandana)!
---
I'm keepin' all the left over parts. I'm gonna use 'em to build another bike!
_____________________________________________
"Black Beauty"
1989 VN750 acquired December, 2008, 6,711 miles
Currently 23,298 miles
Old Blue
2001 Honda CMX250 Rebel acquired July, 2008
1987 VN750 project bike, acquired August, 2009, 33,000 miles and balancer sticking out of the case, currently awaiting attention and parts
Drive less, ride more...
Join Date: Nov 2005
Location: SW Ga
Posts: 1,114
Sorry, but I'm afraid your snob Harley friend is...one might say..."full of it".
In my 3 1/2 years and 20k+ miles of riding, I've been down twice.
In each case, my head
did not
hit the ground (or anything else). I was wearing the same helmet that I wear now--the bright yellow Shoei.
Of course, one should always ride under the assumption that one's head could end up sliding across someone's hood and/or the pavement--face-up or face-down.
I think "Mr Harley's" explanation may be a bit of an macho sound bite for his otherwise malnourished ego.....
The "you're done" story is also old-school macho talk....dress appropriately for the ride, and ignore it.
---
'05 VN750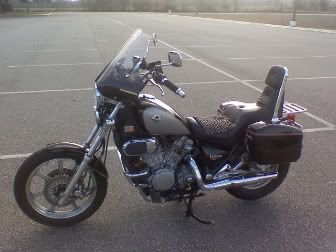 For other bike pix & mods, go to:
http://s1203.photobucket.com/albums/...k/VN750%20pix/
and the Adventure Cycle
Join Date: Jun 2004
Location: Western PA
Posts: 6,138
We've had several here (who are luckily still here!) who've been down on the road.
Unless it's their spirit posting, this Hardley snob is not one to listen to.

As for "no matter what, you're hitting your head"....ya never know, until it happens. It depends on many factors.... speed, how you go down (high side, low side, t-boned, etc....)

While it is kind of apples to oranges, there've been many wipe-outs I've seen on different types of motorcycle races (dirt and street) which the guys head never even comes close to the ground. While there's others where they show the after shots of a helmet, all scraped up from ground contact.
Unless you can predict the future, like I said.... ya never know, but certainly not any/every time no matter what.

P.S.,
I think this Hardley guy has hit his head one too many times to believe ANYTHING he says!!
---
AKA: Tim & 'The Adventure Cycle' VROC #24567, NEVROC, SteelCity VROC
"When life throws you curves,
Aim for the apex."


Author Unknown
On His Lady Vulcan
Join Date: Apr 2008
Location: Washington State
Posts: 1,647
I have been down twice in 20+ years on street bikes, low sided both times and never even put so much as a scratch in my helmet. So yes that dudes full of SHI*. As for going down on a Highway or Freeway your chances are reduced to survive but survival is more than possible. I have three riding partners that has gone done doing 60+ on the Freeway and all three still ride with me today. So tell that Harley snob to stuff it....Idiots gotta luv em.
Peace
---
"You came out of your mom looking like SHlT. She thought you were beautiful. Don't know what scared me most, your looks or her judgment."
Pictures of the "Ladies"
Member
Join Date: May 2009
Location: Brooksville,Florida
Posts: 79
Flightcontrol X2, plus- There is no "sure thing". A seasoned rider I worked with was killed sitting still at a red light, and wearing proper equipment. Others have survived nasty crashes with and without proper equipment. HOW EVER, you have huge control over the odds. Safety equipment, alert rider, tires, brakes, visibility, proper speed, weather, and many more things affect your odds. Keep the odds in your favor.
---
57 years experience,Zero accidents. Starting with 1947 Indian Chief. Now VN750 , V65 Magna, Burgman scooter.
The Reanimater
Join Date: Apr 2009
Location: A Little Town Along I-5 in Northern California
Posts: 847
Quote:
He was very vehement when he said, "Yeah, if you go down on the highway, helmet or not, you're done." "Done?" I said, "what do you mean by 'done'?". He said that no matter what, if you go down on the highway you're not surviving. I take highways to work everyday so this was more than a little disconcerting. Second question: is this true? Are highways a 'one and done' kinda deal?
I think He believes that going down on the Highway/Freeway is like going down in front of a Stampede.
Your going to get hit or run over from whats coming behind You No matter what.
---
JaY
"Veronica"
2002 VN750 Vulcan
Rebuilt Engine
ACCTs lubed w/TOC Springs
Pick-up Coils Gapped at .018"
Splines Lubed
Deka MF AGM EXT15L Battery
NGK Iridium IX Spark Plugs
R/R Relocation Fix
New Rear Rack
Stock Seat Repadded
Ext-BackRest
Senior Member
Join Date: Jul 2008
Location: Titusville, New Jersey
Posts: 6,430
Pfffff, and this guy tells me not to listen to YOU guys! By the by, apart from my own research, which is maybe 20% of what I know about bikes, you all have taught me everything I know. At this point that seems to be enough to get someone ELSE they're own nice bike and teach THEM how to ride safely! I knew "Harley Snob's" ego was big but I didn't realize it blinded him! I only listen to him because he's been ridin' for 20 years but if he's gonna be feedin' me false info based only his big head then forget it. I know you have to be super careful on highways and ALWAYS have your wits about you but they shouldn't be viewed as death traps. I'll just take everything he says with a grain of salt. He's obviously not all about the facts.

Well anyway, I'm glad I can always come here and get some real perspective. I'd trust the epinions here over his opinion anyday. He's not that bright anyway...
Members who have donated towards server costs
Join Date: Jun 2006
Location: Long Island, NY
Posts: 812
Hey Liberty, you're smart enough to fly helis and you have trouble figuring out who to listen to? As you've heard here, there are a number of miracles walking around. That is guys who have gone down on the highway and are still here to tell about it or maybe they're resurrected?

Make a rule - never listen to anyone you can't respect. Most important, ride safe.

Gemguy
---
2003 Wine/Gray VN750 bought in 2005 w/2000 Miles
LED Tail/Brakelight & License Plate Light;Chrome Inspection Sticker Plate ;Battery Charging Quick Plug;Kuryakyn LED Battery Voltmeter;Throttle Rocker Palm Rest;Optronics Driving Lamps;KnifeMaker Floor Boards;Halogen Headlamp Bulb;OEM Engine Guard;Iridium Spark Plugs;OEM Luggage rack;Stebel Air Horn;Handlebar Clock; Handlebar Thermometer; Sealed Battery; Marbled; Leather Grip Covers; Rectangular Mirrors

~VROC~ # 389
Linkmeister Supreme
Join Date: Aug 2008
Location: Lethbridge, Alberta, Canada
Posts: 7,960
I`m not taking Harley snobs side, nor do I agree with him, but his opinion may mirror his experience. Maybe he has personally known a rider or 2 or 3 who have gone down on their bikes on the highway and died as a result. If so, this could translate into his view that if you go down on the highway, you will die.

I personally believe that if you are wearing proper gear, including helmet and armored jacket and pants, you can go down in a lowside, at highway speeds and slide a long way without suffering any great injury. However if you come off a highside or crash your body into another vehicle or stationary object, your odds of survival come way down.

Last year when I came off the end of the guardrail and sailed most of the way across the ditch, I took the brunt of weight on my arms landing in the ditch grass. I estimate that I was travelling less than 30mph. My head came down hard enough to split the face shield in half vertically, but the half shell helmet only has a few light scratches.
---
Gordon
1991 VN 750 -"
Cosmic Lady
" or "
Bad Girl
"?
Purchased May 16, 2008
Approx.19,300km (12,000 miles)
H-D windshield
Relocated R/R
MF-AGM battery
Fiamm Freeway Blaster horns
F&S luggage rack and engine guard
Kury Offset Hiway pegs
July 13, 2016, Riding on the DARKSIDE now, Classic Radial 165/80-15
TOP TEN THINGS A NEW RIDER/OWNER SHOULD DO.
Click on link.
https://www.vn750.com/forum/11-vn750-general-discussion/9127-top-ten-items-you-would-suggest-new-owner-do-his-new-ride.html