time to fix that oil leak
---
here is where I think its leaking from, this pic is the front of the front cylinder and the leak is coming out of that little hole under the first word. couldnt figure out how to circle it, only put in text.
is this what I need to remove and does the spark plug need to come out. I know the pic is the rear cylinder but I only have pics of this side of the bike.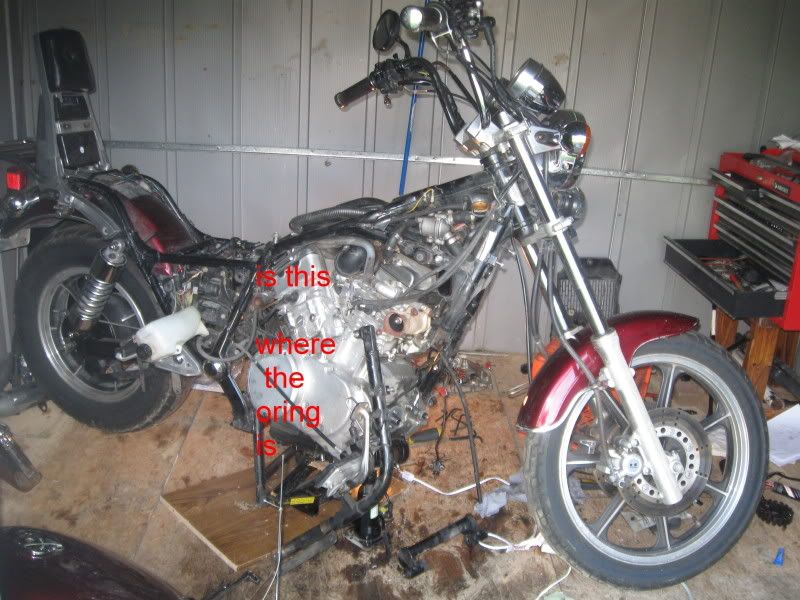 I'm just throwing this pic in because I'm pretty happy with how an old 86 with 30,000 miles on her cleaned up after a backyard stator change, and she looks so much better than the previous two pics!
Members who have donated towards server costs
Join Date: Apr 2008
Location: S.E. Michigan
Posts: 2,850
Looks pretty sharp in that last pic.
Old Twistie Sticks Rider
Join Date: Aug 2007
Location: Country Created by Geniuses, But Run by Idiots...!!!
Posts: 5,072
Nice clean look, not bad at all for an 86 with 30K+ miles...
...
Have a good one...Old Dog...
---
Southern Central Tennessee....
...
Now on the Dark Side...
...
Girl's Bike 09 Sporty xl 1200 Custom...33k + & clickin...
...
Sportster Owner/Rider since age 72...lol... Rider since Simplex...???
09-xl1200 "C" Vivid Black, Cast wheels w/19" Frt., SE-Stage 1+, X14iEDs...
MicroTach +, Higher wider H-bars, GPS Mt., Mustach bar Hwy. pegs...
Viking Shock cutout Saddlebags, Rear Mt. Signal Lt. Kit, Fork Brace...
RoadKing Air Shocks, Mustang Seat, Progressive Fork Springs...
Concert connoisseur
cindy!!!! is this where we discussed my oil leak was a while ago, right below the t in the word this in the dissassembled bike pic. and do I just remove the spark plug and use my rear wheel nut to remove this to replace the oring, thanks! I dont have photoshop so I had no way to circle it. and I know it would be the one on the front cylinder, I just had no pics of that side of the bike.
Concert connoisseur
thanks kanuck, I couldnt remember who else posted about it. did you just remove the spark plug and that bolt and slip a new o-ring on it?
Concert connoisseur
heres the two o-rings actual part numbers from cheapcycleparts.com 92055-049, and 92055-1272 2 each. for anyone else with this problem.
Concert connoisseur
I'll confirm crobins tip. I think the nut to the rear axle was made to remove the spark plug cylinder! it fit perfectly. and took 5 minutes to repair the o-rings. I'll let you know if its done leaking!