Teaching youth Rider to ride???
---
I have owned my vulcan 750 almost 2 years now, my daughter who is 8 yrs old has been my passanger, shes enjoys riding and is frustrated when I ride solo

I have been riding for 3 years now, and I had no riding experience growing up.

My question is when do you teach a youth to ride and what type of bike would you suugest a youth rider to learn to ride on?

Thanks everyone and have a safe Holiday.
---
Last edited by John Brisson; 05-23-2009 at

04:10 AM

. Reason: error
Vintage bike addict
Join Date: Oct 2008
Location: I live in eastern ohio
Posts: 859
It's very responsible of you to ask. A little bit early in my opinion. I started out with small cc dirt bikes about twelve years old. Wildfire motors has some that could be appropriate. Keep in mind the legislators are looking at the child endangerment aspect of allowing youngsters to ride as passengers. Check the law in your state. Teach her to be safe and always wear her gear.
---
No one can make you feel inferior without your consent.
Eleanor Roosevelt.
Ba dum dum, ching...
Join Date: Jun 2008
Location: Central Joisey (you got a problem wit dat?)
Posts: 542
She might be ready now. She certainly has the desire and there are some bikes out there that are designed for youth riders. A couple of things you need to ask yourself though:
How well does she ride a bicycle?
How athletic is she?
Do you think she's going to give up the first time she falls down?
I think if you get the right answers on these questions she should do fine on a bike. My nephew started riding at about 7 or 8 and rides very well. I'm always in favor of supporting our children in their interests. My parents supported me at an early age when I wanted to take drum lessons. I still play in 2 different bands and even at 51 it is still my passion (2nd only to my wife).
R
---
Yes, it's my mid-life crisis.
Sweet Jane...
My daughter is 8 also and wants a small dirt bike, if I had a little more room behind my house I probably would have found her a small 50cc or something close to that. Whenever I go to a Stealership, she always wants to go look at the youth bikes.
---
"Show me a man who makes no mistakes, and I'll show you a man who doesn't do things." Theodore Roosevelt."
2007 Victory Kingpin
Current projects - 1986 VN750 & 1988 EL250
D2u
Join Date: Mar 2009
Location: S.E Michigan
Posts: 175
Both of my boy's started riding dirt bike's at age 5 so she is of age.I would start her off on a 50 cc automatic.
---
1992 VN750 22,350 miles 18,700 when I bought it last year 04/17/2008
Streetshield EX
degoat
drilled mufflers
splines lubed
Capped (soon to be coaster)
Custom Grips
Wide blade levers
Throw over leather saddlebags
Deka MF AGM ETX15L
NGK Iridums
DIY Brackets,and highway pegs
To do list.
custom seat
teardrop mirrors
DIY Floor boards
I would recomend a little Honda xr50 or a yamaha 50...try to stay away from a 2 stoke for her first bike, as the powerbands might be a little much for her to handle starting out. i started riding mini bike when I was 4 or 5...so I don't think it is too young for her to learn.
Join Date: Jul 2008
Posts: 707
i would agree with the bicycle thing first... if shes good on a bike then i would look at a 50cc dirt bike.... once she can rip around on one of those she should be old enough to start increasing the cc's..... she has a long time to go before she can be out on the road though so give her some time to practice..... id rather fall on dirt and get up with some bruises than fall on asphault and not want to ride again..
Drive less, ride more...
Join Date: Nov 2005
Location: SW Ga
Posts: 1,114
When you have decided she is ready for powered 2-wheel travel, you might also consider a local area class of the MSF dirtbike school.
For details on learning from the pro's at a class nearest you, see/visit:
http://www.dirtbikeschool.com/
In fact, you might take the intro dirt course
together
!
Riding off-road with your children is a great way to build some fantastic experiences and memories.....
Hope this helps!.....
---
'05 VN750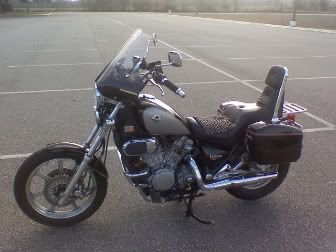 For other bike pix & mods, go to:
http://s1203.photobucket.com/albums/...k/VN750%20pix/
Senior Member
Join Date: Nov 2008
Posts: 411
I started riding on my cousin's YZ80 when I was about 10 (he was about 8 at the time). Of course, we all knew how to ride bicycles by then, and had our sense of balance. I'd agree with whoever said that dumping it on dirt is much softer than dumping it on asphalt...

--FA
---
K.J. "Fire Ant" Lord
VROC #28807
Decatur, TX
'03 VN750 "Serenity"

Rear Turn Signal Relocation
Front Brake Replacement
Spline lube, per Fergy's excellent instructions (that he has posted around here somewhere)
Kevlar Clutch Plates
Metzeler ME880 Tires
Stebel Nautilus Air Horn
ACCTs Rebuilt
Saddlemen Explorer Seat
MCCTs Installed
Kuryakyn Wide Levers Installed
Thanks for responses, She mastered the bike and scooter, but she wants to ride a dirt bike. She always looks at the 50cc bikes when I'm at the Kawasaki dealership.

Thanks again for all the information and responses. I like the automatic bikes to start with, but do they make trainning wheels? Dad is somewhat nervous. I will check in the meantime about ridng course.