Not a happy week-end
---
Well there's those who haven't gone down, and those who have. I now belong to the latter group. I was riding up a mountain road, coming around a sweeping right turn (second gear, not going fast), when she slid out on me. I should mention I just got my new Metzlers about two months ago. After sliding out on me, she decided to high center, come around and land on my left leg. The damage done to my girl was do to hitting a tree (which kept her from sliding down the mountain side!). The bike is repairable (Both down tubes twisted, both gauges broken, taco-ed the front fender). As for my leg, I am VERY fortunate! My leg is VERY black & Blue, from one foot above my knee to my ankle. This happened on Thursday night. I am seeing my doctor tonight. I was alone when this happened and had to walk 6 miles to my friends country cabin. Hospital was a good 60 miles away. I had plenty suds to drink the pain away this last week-end. I do not know If I'll be parting her out, as of yet. I did tell the little lady, I'd hang my helmet up for some time.
Simple Solutions
Join Date: Jun 2008
Location: SEQUIM, WA
Posts: 965
hey bro in my recomendation get on another bike as soon as the leg pain goes away... what happened was fluke maybe a little gravel... im glad your allright... ive been part of the ladder group since 04 and i didnt start riding again till last summer...down tubes im guessing is the frame tubes... n e who heal up and get back on..
---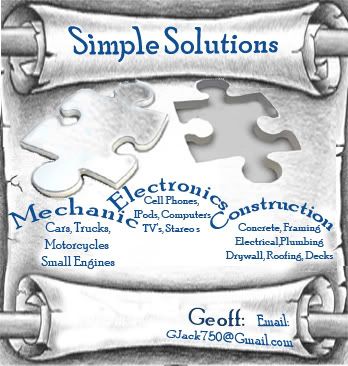 Stator #3
MF AGM
DeGoated
Ears Shaved
R/R relocated
Rebuilt
She's worth her weight in GOLD
If u dont have it already Here is the
Service Manual
How To
Test the Stator
Members who have donated towards server costs
Join Date: Apr 2009
Location: RI
Posts: 146
Wow! Sorry to hear but I'm glad you and the Mrs. are ok. I've taken my share of spills when I rode my off road bikes but.... let's just leave it at that. I hope you have a speedy recovery and hopefully you don't hang up the helmet too long.
Hope this eases the pain a little.
---
1989 VN750
Purchased 4/26/2008 @ 27,320 Mi

Upgrades:
Travelcade Mustang Seat
SpitFire Tinted Quick Release Windshield
Degoat, Drilled & Jetted
Leather Saddle Bags
Johar Signature Grips
Deka ETX15L Powersports AGM Battery
NGK DPR7EIX-9

Upcoming:
1991 VN750 Project Bike
Purchased 4/30/2011 @ 31,970 Mi
Calif Rider
Join Date: Jan 2006
Location: Petaluma Calif
Posts: 725
Glad to hear that nothing was broken, but a bad sprain can almost be as bad. I am sure in a short time you will remember how boring life can be when you don't ride. It is just one of those things that happen.
---
2004 25,500 miles
Led tail light enhancement
Homemade floor boards
Headlight modulator
Extra heat sink on R+R
R+R relocation
Homemade driver's backrest
Fused Stator
Mcct conversion-cost 4.50
Ride-on in tires
crash bar with home made hyway pegs
iridium plugs
home made fork wind deflectors
coil pickups adjusted.
Kenda kruz tires 110/90 170/80
Members who have donated towards server costs
Join Date: Dec 2008
Location: Monroe, LA
Posts: 4,706
Sorry to hear about the misshap and glad to know you're gonna be OK. I know about promises to ladies. In a weak moment at the ER, promised not to ride horses again (I'm not smart enough to operate a horse!).
---
I'm keepin' all the left over parts. I'm gonna use 'em to build another bike!
_____________________________________________
"Black Beauty"
1989 VN750 acquired December, 2008, 6,711 miles
Currently 23,298 miles
Old Blue
2001 Honda CMX250 Rebel acquired July, 2008
1987 VN750 project bike, acquired August, 2009, 33,000 miles and balancer sticking out of the case, currently awaiting attention and parts
Linkmeister Supreme
Join Date: Aug 2008
Location: Lethbridge, Alberta, Canada
Posts: 7,960
Hey mikey, I`m glad you didn`t get busted up like I did just 10 months ago. This left tibia of mine is still broken. You will be bruised and sore for a few weeks at least, but you can still walk. I`ll bet the walk Thursday night was the longest 6 miles you ever experienced.

I thought the reference to "damage to your girl", was about a passenger until I read the rest of the post. I`m glad neither one of us had a passenger on the bike when we crashed. It`s too bad about all the damage to your bike though. I hope you will be able to regain your nerve and desire to ride again, before too long. You know what they say about getting right back on a horse after getting bucked off, eh.

Could you tell us a little more about yourself, how experienced a rider you are, and what you think you could have done differently to avoid the crash? You mention new tires installed 2 months ago. Have you been riding all this time and had the new tires well "scrubbed in", or was this the first ride on the new tires? Were you riding on pavement or gravel? Do you know what you slid out on? sand, gravel?, leaves?, loose dirt, a piece of cardboard?, etc. What is your best estimate of your speed? You say not fast, only in second gear. If you rolled on the throttle in second gear, you could be traveling a pretty good clip.

What can we learn from your experience, to help us to keep from repeating it ourselves? Thanks for taking the time to share.
---
Gordon
1991 VN 750 -"
Cosmic Lady
" or "
Bad Girl
"?
Purchased May 16, 2008
Approx.19,300km (12,000 miles)
H-D windshield
Relocated R/R
MF-AGM battery
Fiamm Freeway Blaster horns
F&S luggage rack and engine guard
Kury Offset Hiway pegs
July 13, 2016, Riding on the DARKSIDE now, Classic Radial 165/80-15
TOP TEN THINGS A NEW RIDER/OWNER SHOULD DO.
Click on link.
https://www.vn750.com/forum/11-vn750-general-discussion/9127-top-ten-items-you-would-suggest-new-owner-do-his-new-ride.html
---
Last edited by OlHossCanada; 05-05-2009 at

05:58 PM

.
I've been riding motorcycles since I was about 7 years old. Started on a CR60, then a XR80, to a CR250. Graduated to a streetbike at 18 years old. My first girl was a 1938 BMW R-71 w/ a side hack. Grandpa had brought back from the war. That girl was a TANK! something like a thousand pounds, with just 44 horses! I then graduated to a GSXR 600 at 19years old. I got my favorite (1995 VN750) girl as a gift from my Father-in-law. I had sold my BMW for my wife's wedding ring, and two years later, he gave me his bike (it had been sitting on the side of his house for two years. I put on my Metzlers on about two months ago. I ride (rode) my bike everywhere. I got her with 10k on the speedo, but the speedo quit working at 12,909kmiles. I commuted my girl roughly 190 miles a day, 5 days a week, for two years. My commute was between Bakersfield, CA & Santa Clarita, CA. Over Interstate 5, through a stretch called "The Grapevine". I've riden in snow, rain, blowing wind, all in a suit & tie (I was working for AAA, registering autos for the CA DMV). The wreck this past Thursday came as a surprised to me! I was in second gear, climbing a steep mountain road (right turn), and she just slipped out , next thing I know, she's come around (high-centered)and slammed my left leg. I got real lucky. A tree stopped my bike from sliding down a good 15-20 feet down part of the mountain. This happened around 19:20 ish in the evening. My leg hurts like the ****ens. I'll be seeing my doc. later this afternoon. As for my Metzlers, I have put about 500 miles on them since I had them installed. I'll be riding again soon. I never quit ANYTHING, and not about to start!
At Least I Can Spell!
Join Date: Jan 2009
Location: Monroe, NC
Posts: 615
Mikey - I feel your pain. I wish I had words to express it to you. My recent spill was en eye opener for me, and while it did not turn out as serious for either me or my bike, I won't forget it and will be a better rider for having it happen. You may be a far more experienced rider than I, but I know you won't forget either. Here's to healing quickly and getting back on two wheels as soon as possible.
---
Michael
2002 Nomad 1500
VROC #29972
----------------------
Old Twistie Sticks Rider
Join Date: Aug 2007
Location: Country Created by Geniuses, But Run by Idiots...!!!
Posts: 5,072
Quote:
Originally Posted by
Producer Mikey
View Post
I never quit ANYTHING, and not about to start!
There ye go, get'r done, get the leg well and get back on her... Sorry to hear of the bad luck...
Good luck with the heal and gettin the bike fixed up...
Have a good one...Old Dog...
---
Southern Central Tennessee....
...
Now on the Dark Side...
...
Girl's Bike 09 Sporty xl 1200 Custom...33k + & clickin...
...
Sportster Owner/Rider since age 72...lol... Rider since Simplex...???
09-xl1200 "C" Vivid Black, Cast wheels w/19" Frt., SE-Stage 1+, X14iEDs...
MicroTach +, Higher wider H-bars, GPS Mt., Mustach bar Hwy. pegs...
Viking Shock cutout Saddlebags, Rear Mt. Signal Lt. Kit, Fork Brace...
RoadKing Air Shocks, Mustang Seat, Progressive Fork Springs...
D2u
Join Date: Mar 2009
Location: S.E Michigan
Posts: 175
Sorry to hear that.I hope you are doing better.Get back on that horse as soon as you can!
---
1992 VN750 22,350 miles 18,700 when I bought it last year 04/17/2008
Streetshield EX
degoat
drilled mufflers
splines lubed
Capped (soon to be coaster)
Custom Grips
Wide blade levers
Throw over leather saddlebags
Deka MF AGM ETX15L
NGK Iridums
DIY Brackets,and highway pegs
To do list.
custom seat
teardrop mirrors
DIY Floor boards