Voice Your Opinon
---
I'm starting the practice stage on my new paint job next week. Don't want to pay the high price for a pro. So between myself and my nephew we are going to give it a shoot. Narrowed it down to two choices.
I know what I think, what do yall think?
---
Last edited by CapHAB; 07-27-2009 at

12:24 PM

.
Simple Solutions
Join Date: Jun 2008
Location: SEQUIM, WA
Posts: 965
i like the black one... however if it were goin on lances bike id pick yellow
---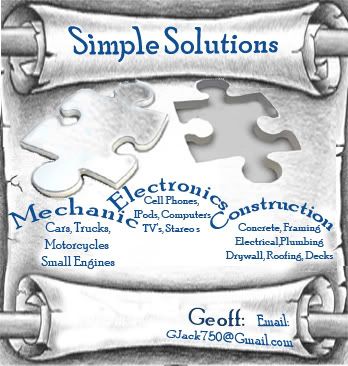 Stator #3
MF AGM
DeGoated
Ears Shaved
R/R relocated
Rebuilt
She's worth her weight in GOLD
If u dont have it already Here is the
Service Manual
How To
Test the Stator
The Professor
Join Date: Feb 2008
Location: BUFORD, GEORGIA
Posts: 3,147
I like them both but I think silver would would look even better than black or yellow.
Can you do one with silver?
---

85 VN700 "Old Yella"
REBUILT ENGINE
CUSTOM PAINT
VANCE & HINES CRUZERS
EAR SHAVED AND RE-JETTED W/K&N'S
DUNLOP ELITE K591 FRONT & REAR
VOLTMETER
SYNTHETIC BRAKE FLUID
SYNTHETIC OIL & GEAR LUBE
PLEXISTAR 2 WINDSHIELD
SPLINES LUBED
ACCT'S GREASED W/TOC SPRINGS
COASTERD
LEATHER SADDLE BAGS
LEATHER TOOL AND ROLL BAG
PICKUP COILS GAPPED AT .018"
NGK CAP, WIRES, IRIDUMS
BARNETT FRICTION PLATES & SPRINGS
CUSTOM GRIPS, MIRRORS, LEVERS
ORIGINAL STATOR & R/R 14.5v
DEKA MF AGM ETX15L
Best Auto/Moto Insurance | Motorcycle Protection Today | FREE Trade-In Quote
Members who have donated towards server costs
Join Date: Apr 2008
Location: S.E. Michigan
Posts: 2,850
Black one.
Members who have donated towards server costs
black




---
If you see it on my bike I did it
VROC#30324
92 vn750(sold)
Current ride 05 1500 Classic FI
lovin' the new scoot
Quote:
"When all is said and done,usually more is said than done" UNK
Click on one x and drag to the other to read between them.
Psalm 40:1...
XI waited patiently for the Lord; and he turned unto me, and heard my cry. X
D2u
Join Date: Mar 2009
Location: S.E Michigan
Posts: 175
Black
---
1992 VN750 22,350 miles 18,700 when I bought it last year 04/17/2008
Streetshield EX
degoat
drilled mufflers
splines lubed
Capped (soon to be coaster)
Custom Grips
Wide blade levers
Throw over leather saddlebags
Deka MF AGM ETX15L
NGK Iridums
DIY Brackets,and highway pegs
To do list.
custom seat
teardrop mirrors
DIY Floor boards
Senior Member
Join Date: Jul 2008
Location: Prior Lake (MPLS area), MN
Posts: 950
black
---
Sold 750 (9-09)
Bought '07 900 Classic "LT" (6-09)
Mustand Seat (6-09)
Balanced Carbs (4-09)
Adjusted Mix Screws (4-09)
Drilled Baffles 8 holes (4-09)
R/R Relocated (3-09)
Splines Lubed (3-09)
Metzelers ME880 170/80 in back 100/90 in front (3-09)
Painted flat blak (3-09)
Kuri grips (8-08)
Kuri Longhorn pegs (8-08)
Iridium Plugs (8-08)
Highway bar/ engine guard(FS)
Some saddlebags no idea which ones
Facebook group Vulcan 750 Riders (Invite Only Group)
Facebook ID Eli Gaffke
Senior Member
Join Date: Jul 2008
Location: Titusville, New Jersey
Posts: 6,430
Members who have donated towards server costs
Join Date: Dec 2008
Location: Monroe, LA
Posts: 4,706
Black.
---
I'm keepin' all the left over parts. I'm gonna use 'em to build another bike!
_____________________________________________
"Black Beauty"
1989 VN750 acquired December, 2008, 6,711 miles
Currently 23,298 miles
Old Blue
2001 Honda CMX250 Rebel acquired July, 2008
1987 VN750 project bike, acquired August, 2009, 33,000 miles and balancer sticking out of the case, currently awaiting attention and parts
OK Lance
Heres my attempt at silver, I know it looks grey, but MSPaint limits you to what you can do with colors.
---
Last edited by CapHAB; 07-27-2009 at

12:24 PM

.