Mods are done...need highway peg ideas
---
So everything is done but the highway pegs that go on the engine guards. Does anyone know the Kuryakyn number for those? It was a PITA just chasing down the peg and brake covers since they won't tell you that they fit our bikes.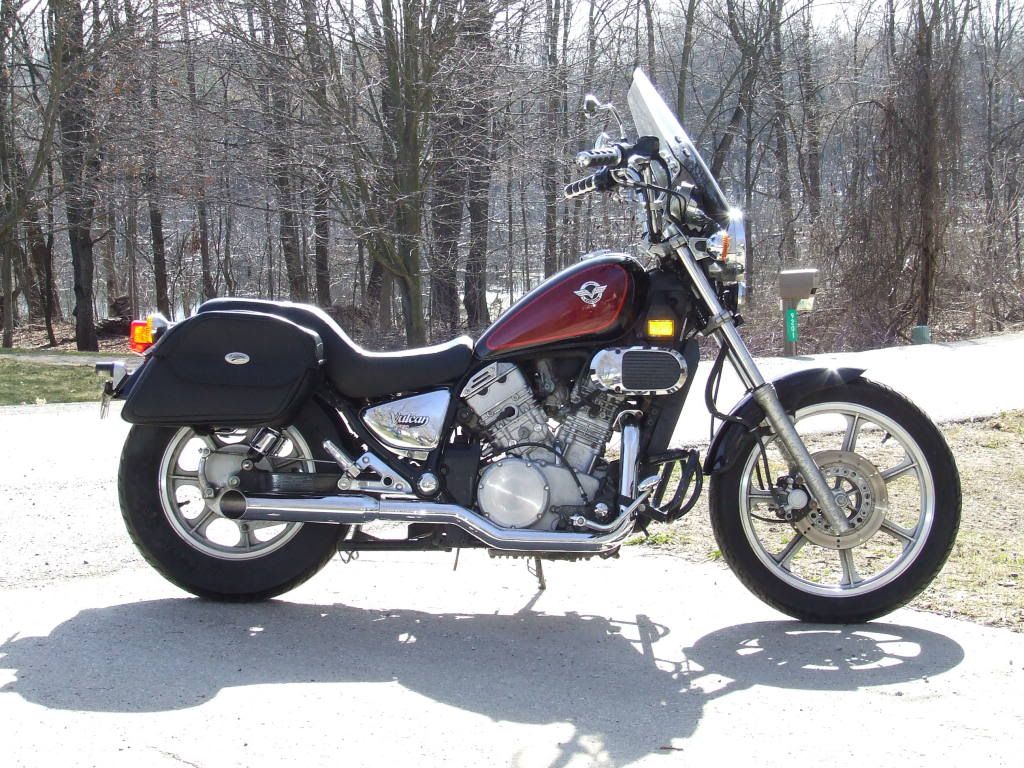 the longhhorn offset dually highway pegs from kuryakyn work on my bike. i have the kawasaki engine guard and i got them with the one inch clamp, they work great. try cheapcycleparts.com . get the phone number from the web site call it , use ext #159.the guys name is steve. he helps me out all the time . tell him he sold a set to someone else and he should beable to help you . the price is cheaper . just tell him what size tube your engine guard has and he should be able to find some for you .
---
DRAGONRIDER
RIDE LONG AND RIDE SAFE
Thanks, you woud think Kuryakyn would be more helpful...I'll call your guy and get all set up.
At Least I Can Spell!
Join Date: Jan 2009
Location: Monroe, NC
Posts: 615
---
Michael
2002 Nomad 1500
VROC #29972
----------------------
before you order any footpegs make sure you measure the tubes one your hightway bars, not trying to imply that you would not do this first, but i looked at the link that msh1156 posted and it was for 1 1/4 clamps. hate to see you pay shipping twice , not tomention re-stocking fees
good luck and let me know what you find
---
DRAGONRIDER
RIDE LONG AND RIDE SAFE
Senior Member
Join Date: Feb 2009
Location: Columbus Ohio, USA
Posts: 268
Very helpful thread! I'm mid-mod on my sled but this helps me a lot!

Please let me know which pegs you decide on!
Senior Member
Join Date: Jul 2008
Location: Prior Lake (MPLS area), MN
Posts: 950
Yeah I got the Kuri Iso highway pegs. I used 1inch clamps. But I have the Kawasaki engine guard which is bad for putting pegs on cuz it is offset and for my height I can't get the pegs as far forward, and out as I would like. I would need the right angle clamps. Your engine guard looks better for that, cuz you can put the clamps on the side. So you can get the pegs further out and forward.

I wanna get the brake pedal, and clutch covers. I'm waiting on those though, to find a good enough deal.
---
Sold 750 (9-09)
Bought '07 900 Classic "LT" (6-09)
Mustand Seat (6-09)
Balanced Carbs (4-09)
Adjusted Mix Screws (4-09)
Drilled Baffles 8 holes (4-09)
R/R Relocated (3-09)
Splines Lubed (3-09)
Metzelers ME880 170/80 in back 100/90 in front (3-09)
Painted flat blak (3-09)
Kuri grips (8-08)
Kuri Longhorn pegs (8-08)
Iridium Plugs (8-08)
Highway bar/ engine guard(FS)
Some saddlebags no idea which ones
Facebook group Vulcan 750 Riders (Invite Only Group)
Facebook ID Eli Gaffke
i have the kawasaki engene guard and with a few adjustments i got them where i want them . i am 5'8" sometimes 5'7" depends who measures me i guess. i have plenty of leg room with the kuri pegs i have mentioned
---
DRAGONRIDER
RIDE LONG AND RIDE SAFE
Senior Member
Join Date: Jul 2008
Location: Prior Lake (MPLS area), MN
Posts: 950