Members who have donated towards server costs
Join Date: Jun 2008
Location: Gaithersburg, MD
Posts: 189
There goes my masculinity :-)
---
Ok,
I can deal with the inadequate charging system, the acct issue, the backfiring..even a dry spline. But when someone calls my Vulcan750 a "LADIES" bike!!!??? That's it. I'm off to the HD stealership! LOL
Someone has their VN750 up on eBay, and says... ".IT WOULD BE GOOD FOR A FIRST TIME BIKE OR A LADY"
Check it out:
http://tinyurl.com/ladysbike
---
Regards,
Pete in Gaithersburg, MD

1996, 6,000 miles
Relocated R/R, Corbin seat, Plexifairing III, Sunpro Voltmeter, Sears MF.
Xelement X840 Saddlebags
Senior Member
Join Date: Jul 2008
Location: Prior Lake (MPLS area), MN
Posts: 950
I bought mine from a woman.
---
Sold 750 (9-09)
Bought '07 900 Classic "LT" (6-09)
Mustand Seat (6-09)
Balanced Carbs (4-09)
Adjusted Mix Screws (4-09)
Drilled Baffles 8 holes (4-09)
R/R Relocated (3-09)
Splines Lubed (3-09)
Metzelers ME880 170/80 in back 100/90 in front (3-09)
Painted flat blak (3-09)
Kuri grips (8-08)
Kuri Longhorn pegs (8-08)
Iridium Plugs (8-08)
Highway bar/ engine guard(FS)
Some saddlebags no idea which ones
Facebook group Vulcan 750 Riders (Invite Only Group)
Facebook ID Eli Gaffke
The Reanimater
Join Date: Apr 2009
Location: A Little Town Along I-5 in Northern California
Posts: 847
I think for a Good First Time I'd choose.....
Give me a sec.............
Hum.........
I Choose.......... A Lady, with Bike a close 2nd.
---
JaY
"Veronica"
2002 VN750 Vulcan
Rebuilt Engine
ACCTs lubed w/TOC Springs
Pick-up Coils Gapped at .018"
Splines Lubed
Deka MF AGM EXT15L Battery
NGK Iridium IX Spark Plugs
R/R Relocation Fix
New Rear Rack
Stock Seat Repadded
Ext-BackRest
Members who have donated towards server costs
Join Date: Jul 2006
Location: Kennett Square, PA
Posts: 3,505
Those of us on the distaff side believe that your bike was just paid a nice complement.
---
C
Members who have donated towards server costs
[QUOTE=PoggiPj;92064]Ok,
I can deal with the inadequate charging system, the acct issue, the backfiring..even a dry spline. But when someone calls my Vulcan750 a "LADIES" bike!!!??? That's it. I'm off to the HD stealership! LOL


I have owned the so called mans bike and while I liked it a lot It was a lot more ,,,,,Primitive than the VN 750,about the only thing I really miss is the backup kicker,But then again I haven't needed one with this bike yet either,my nephew on the other hand has battery issues all the time with his '05,mostly because he doesn't ride it enough and keeps buying cheap batteries I suspect,Denny




---
If you see it on my bike I did it
VROC#30324
92 vn750(sold)
Current ride 05 1500 Classic FI
lovin' the new scoot
Quote:
"When all is said and done,usually more is said than done" UNK
Click on one x and drag to the other to read between them.
Psalm 40:1...
XI waited patiently for the Lord; and he turned unto me, and heard my cry. X
Drive less, ride more...
Join Date: Nov 2005
Location: SW Ga
Posts: 1,114
First, the source of your concern here lacks credibility--note in the listing that their Ebay "reputation" is a dismal 85%....not very good by Ebay standards at all--and I certainly wouldn't buy a bike (or most anything else) from them with that score.
While the VN750 can indeed make a good lady's bike, I think you've touched onto something that is evidence of a trend that is more fundamentally problematic.
In the cruiser world, certain insidious trends have taken place over the last decade or so.
One of them of course is the complete disappearance of production bikes like (or similar to) our beloved 750.
Another is that
some riders out there
feel if a cruiser isn't packing at least 1300--1500 cc's of engine (or bigger), it is then really "only a lady's bike". Indeed, the engine size has become at least a partial manifestation of their "manliness" and is (in their minds, anyway) a validation of their "ability" to handle a "real" bike.
Fortunately, those who participate in this forum seem to be of more substance than that...
I hope you truly see past this farce, and hang on to your VN750 and ride it with pride, as it is really the last production bike of its kind. It is truly a bike for those who "dare to be different".....
---
'05 VN750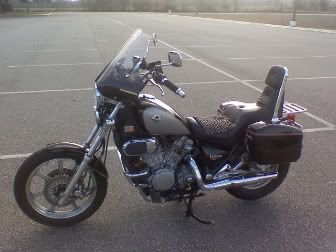 For other bike pix & mods, go to:
http://s1203.photobucket.com/albums/...k/VN750%20pix/
and the Adventure Cycle
Join Date: Jun 2004
Location: Western PA
Posts: 6,138
And the VN750 (so called) 'ladies bike' will take on a lot of the bigger bikes and happily rumble on as it passes them!!!!
And I can't count the number of times I've seen so called 'men' drop their big manly bikes, only to need help in getting back on two wheels!! LMAO!!!
Or how whopped they are after a hundred mile start to a ride because they're shaken to death as they ride!! LMAO again!!!
But yeah, it is a great bike for begginers, as well as advanced riders alike.
Only those who have never ridded a Vulcan 750 are the ones who say it's only a starter or ladies bike.
To them I say....Pffft....whatever.
---
AKA: Tim & 'The Adventure Cycle' VROC #24567, NEVROC, SteelCity VROC
"When life throws you curves,
Aim for the apex."


Author Unknown
Linkmeister Supreme
Join Date: Aug 2008
Location: Lethbridge, Alberta, Canada
Posts: 7,960
I`ve loved the sight and sound of a Harley since the `60s when I had my first ride on one. It was 74 CID which is 1200 cc, and was the biggest engine the Motor Company made. I believe the first Goldwings back in the late `70s or early `80s were 1000 cc, or maybe 1100. These were big powerful bikes at the time. The Harley WLA was a 45 CID side valve (750 cc flathead) which was produced by the tens of thousands during WWII for the US military. This was where tens of thousands of GIs learned to ride, and created the demand for civilian bikes when they came home. Nobody is going to call their masculinity into question. Our 750`s are twice the bike any of Harleys were then and for at least a couple of decades thereafter. Unfortunately nowdays a bike of eleven or twelve hundred cc is considered a mid-sized bike.

I think theauhawk has summed it up pretty well in the last post, when he says those on the vn750 forum have more substance than to be caught up with this idea that bigger is always better. I`m sure that for 90% of the riding that I will ever do, my Vulcan will be more than I need. Long live the VN 750!!!
---
Gordon
1991 VN 750 -"
Cosmic Lady
" or "
Bad Girl
"?
Purchased May 16, 2008
Approx.19,300km (12,000 miles)
H-D windshield
Relocated R/R
MF-AGM battery
Fiamm Freeway Blaster horns
F&S luggage rack and engine guard
Kury Offset Hiway pegs
July 13, 2016, Riding on the DARKSIDE now, Classic Radial 165/80-15
TOP TEN THINGS A NEW RIDER/OWNER SHOULD DO.
Click on link.
https://www.vn750.com/forum/11-vn750-general-discussion/9127-top-ten-items-you-would-suggest-new-owner-do-his-new-ride.html
At Least I Can Spell!
Join Date: Jan 2009
Location: Monroe, NC
Posts: 615
There is a Harley Davidson dealership holding an Anniversary Bash this weekend nearby Charlotte, NC, which includes a poker run, live music, food and what not. I'm waffling on going - 70y/30n. They say it's for anyone, that the bike doesn't matter. I am suspect of that claim. I have no experience with this sort of thing and I want to participate and go on what would be my first group ride and event, but not knowing any other riders yet, plus riding on the lot on a "non-harley-less-than-1500cc-girls-bike" I'm worried I may draw some unnecessary shyte and get my widdle feewings hurt.
---
Michael
2002 Nomad 1500
VROC #29972
----------------------
Join Date: May 2008
Posts: 881
the sportster (skirtster) has the reputation of being a girls bike but many men drive them also.