Almost done and just in time for the new season!
---
Lowered the rear 2.5",the front 1" thanx to Progressive shocks and spring kits, new custom seat (carved and covered by my wife), new Saddleman saddlebags, new VH Cruzer Pipes, and a Hellcat windshield. Top all that off with a new S100 cleaning kit, whew buddy, that is one cherry ride. Just need to repaint the engine guards and fork legs black.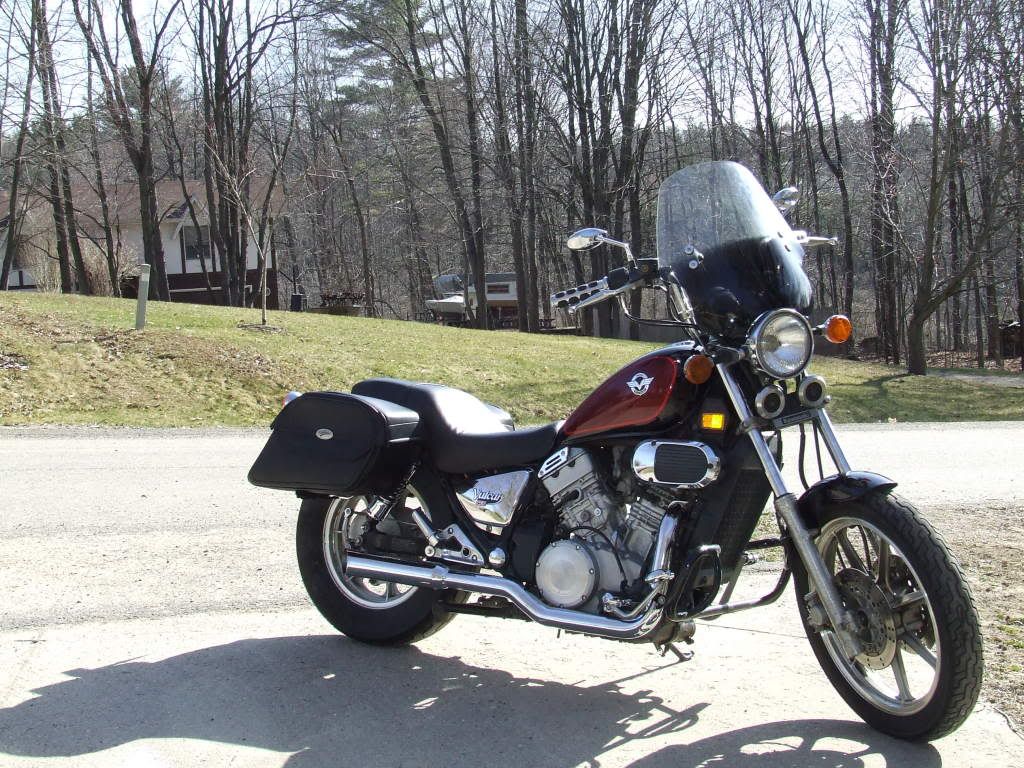 Members who have donated towards server costs
I'm diggin it ,I had to sand the clear coat off my lower legs before I painted them use a good quality primer and clearcoat them again after you have painted them
---
If you see it on my bike I did it
VROC#30324
92 vn750(sold)
Current ride 05 1500 Classic FI
lovin' the new scoot
Quote:
"When all is said and done,usually more is said than done" UNK
Click on one x and drag to the other to read between them.
Psalm 40:1...
XI waited patiently for the Lord; and he turned unto me, and heard my cry. X
Old Twistie Sticks Rider
Join Date: Aug 2007
Location: Country Created by Geniuses, But Run by Idiots...!!!
Posts: 5,072
Looking at the high ride of those Saddleman bags, I like that as it will let you put on some big bags, mine hang like the ones you had on the first shot and bigger bags would put me too close to the pipes...
Have a good one...Old Dog...
---
Southern Central Tennessee....
...
Now on the Dark Side...
...
Girl's Bike 09 Sporty xl 1200 Custom...33k + & clickin...
...
Sportster Owner/Rider since age 72...lol... Rider since Simplex...???
09-xl1200 "C" Vivid Black, Cast wheels w/19" Frt., SE-Stage 1+, X14iEDs...
MicroTach +, Higher wider H-bars, GPS Mt., Mustach bar Hwy. pegs...
Viking Shock cutout Saddlebags, Rear Mt. Signal Lt. Kit, Fork Brace...
RoadKing Air Shocks, Mustang Seat, Progressive Fork Springs...
Members who have donated towards server costs
Join Date: Apr 2008
Location: S.E. Michigan
Posts: 2,850
Looks nice, and nice work on that seat as well. (Thanks for posting pics with the description too
)
At Least I Can Spell!
Join Date: Jan 2009
Location: Monroe, NC
Posts: 615
where's that old seat?? I'd be interested in it.
---
Michael
2002 Nomad 1500
VROC #29972
----------------------
Quote:
where's that old seat?? I'd be interested in it.
Bummer, it was already sold.
Senior Member
Join Date: Jul 2008
Location: Titusville, New Jersey
Posts: 6,429
Good work dude, lookin' good...