Junior Member
Join Date: Sep 2018
Location: Drums, Pennsylvania
Posts: 5
Rear tire locked up can't get shifter into neutral
---
Hi ... I just picked up a 91 vn750 it's in great shape ..9000 org miles.....can't get it to roll ....rear tire locked in gear im assuming....shifter not getting any gears....Im a back yard mechanic can usually figure out problems well...but bikes are new to me....I need some help figuring out what to... Low on funds please help.......
May be broken shift linkage.

Is the shifter sloppy with a lot of travel? Will it roll with the clutch pulled in?
Like Spockster said, probably a broken shifter linkage. The shift lever will flop up and down and not even try to push into a gear. If the linkage broke while in-gear, you'll be permanently locked in gear with the clutch being the only way to get the rear wheel to turn.
Junior Member
Join Date: Sep 2018
Location: Drums, Pennsylvania
Posts: 5
Update .....got bike running...I have gears and can get neutral...when I put in gear and let clutch out it just stalls...rear wheel is locked up ...even with clutch in wheel will not turn at all....im pretty sure it's not the brakes...any ideas ????
Super Moderator
Join Date: Feb 2013
Location: SW Florida
Posts: 2,476
there is a kickstand safety switch that will cause it to shut off if its in gear and kickstand down, and clutch lever released.. its a common problem, the switch sticks in the closed (pushed in) condition.

can you roll the bike with it in gear and clutch lever pulled?
---
2005 VN750

Sold 11-27-17
You could try unbolting the brake stay and actuator rod from the brake assembly, on the right side of the wheel. Then try to move the bike back and forth just a couple of inches.

If the brake assembly rotates, the brakes are stuck. Don't move the bike too far with the stay unbolted.

Otherwise, I'd have to think the rear gear must be locked up. If the front bevel gear was locked, I would think the wheel would still move just slightly, maybe 1/4" or less.
---
Last edited by Spockster; 09-28-2018 at

11:28 AM

. Reason: 'couple of'
If the rear wheel won't turn, even in neutral or the clutch lever pulled in, I'd say the brakes are locked...or the driveshaft is seized somehow.
Try what Spockster said and unbolt the brake arm.
You might not have to remove the actuator, just remove the brake stay and see if the whole brake assembly rotates with the wheel ,and see if you can rotate the brake assy. by hand. Just don't rip the brake cable loose when you roll the wheel. The brake stay is the flat bar in the pic....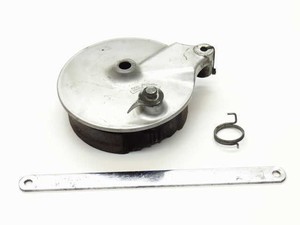 If the brakes aren't locked, I guess the next step is to remove the final drive and see where the driveline is locked up.
I'm about 1-1/2 hours from you, If you can't figure it out you can always tow it down to me. I've fixed just about everything on these bikes.
---
"Show me a man who makes no mistakes, and I'll show you a man who doesn't do things." Theodore Roosevelt."
2007 Victory Kingpin
Current projects - 1986 VN750 & 1988 EL250
Senior Member
Join Date: Jul 2014
Location: North Central Fla
Posts: 450
Quote:
I'm about 1-1/2 hours from you, If you can't figure it out you can always tow it down to me. I've fixed just about everything on these bikes.
You two n half hours from me....??Ocala,Fl??Wait nevermind….Lol.